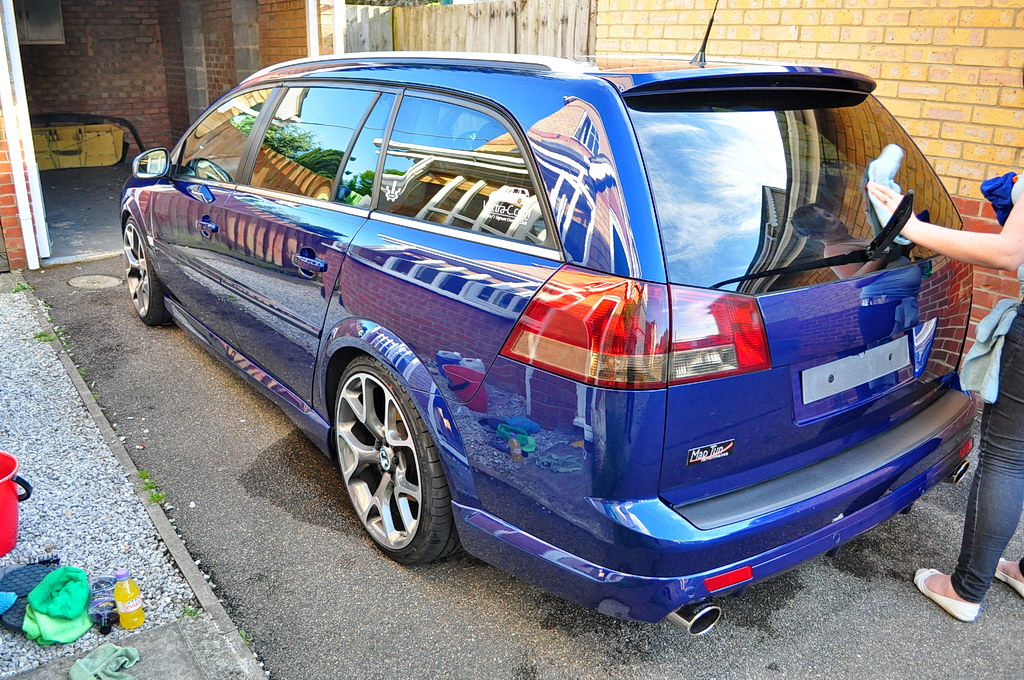 September 2004 (54 plate) Vectra 2.0T estate.
External:
Signum chrome fog surrounds.
Irmscher brushed aluminium topped grill.
Angel eye headlights.
Triple head LEDs & load resistors in angel eye halos.
55w 6000k HIDs in dipped beams.
Ring Xenonmax bulbs in main beams.
5000k xenon effect bulbs in fog lights.
Chrome indicator bulbs.
Headlight washer jets.
Dual rear fog light modification.
19" Replica Audi RS wheels.
H&R 40mm drop springs.
Bilstein B6 shocks.
Powerflex poly front and rear ARB bushes.
314mm brake upgrade.
MIJ cat back exhaust with 45 degree rear pipework sections for better exhaust gas flow.
Powerflow exhaust tips.
Tinted rear lights (spray tinted).
Fully de-badged and Maptun Performance badges added rear and sides.
Rear VXR roof spoiler.
Colour coded VXR side skirts.
Colour coded VXR rear skirt.
Colour coded VXR rear diffuser.
Carbon fibre vinyl door pillars.
Insignia washer jets.
Flatblade wipers.
Small white Vectra-C.com stickers either side in rear side windows.
Small white low estate outline decals either side in rear side windows.
Small 40 years of Irmscher stickers either side in the rear side windows.
Internal:
Full electric/memory GSi leather interior with heated front and rear seats.
Rear lower panel for heated seat switches and rear cigarette lighter (as twin audio fitted on top panel).
Rear heated seat switches.
Front heated seat switches.
Traction control switch.
Additional wiring fitted to enable traction control switch.
Sport switch.
Rear electric windows.
Front cigarette lighter replaced with accessory socket.
Hardwired brodit phone mount for my Samsung Galaxy S3.
Illuminated sun visors with LED bulbs fitted.
Side sunglasses holder on drivers side in the front (replaced grab handle).
Maptun boost gauge.
Interior LED conversion (White with blue LCD screens and blue "on" indicator lights on switches).
OPC style dashboard dials.
Chrome edged vent dials.
Irmscher leather and aluminium effect steering wheel.
Air conditioned glove box.
Engine:
K&N air filter.
Airbox mod.
Ten 21mm holes drilled in bottom of airbox for extra air flow.
Larger green injectors fitted.
Full Maptun silicon boost pipe set fitted.
Full Maptun silicon water pipe set fitted.
Vacuum hoses replaced with blue hoses.
Turbo heat shield polished.
Full engine bay detail.
TD04L14T Turbo upgrade
Maptun stage 3 remap (240bhp/350nm).
ICE:
Alpine IVA-W505R double din DVD head unit.
Alpine PMD-B200P hand held satnav unit (fits inside the head unit).
Alpine TUE-T200DVB digital freeview box.
Alpine digital freeview aerials (x2) mounted in rear side windows and colour coded black to hide them.
Alpine DDC-R17H DD-Drive components in every door.
Two Alpine SBE-1243BP 12" band pass sub woofer boxes connected by Speakon plugs for quick removal.
Four Alpine 3542 amplifiers.
250GB Hard drive mounted in the rear of the centre console.
Alpine bluetooth handsfree with microphone mounted behind alarm sensor panel so not visible.
Dedicated ICE fuse box with dual four gauge cable feed.
OEM AUX socket oddments tray wired to AUX in on TUE-T200DVB.
Factory fitted options from new:
Electric tilt/slide sunroof.
Tyre Pressure Monitoring System (TPMS).
Electric powered tailgate.
Front and rear parking sensors.
Twin audio system (disconnected because of Alpine install).
Roller sunblinds in rear door cards.
Tinted rear windows.
Roof rails.
Still on the "to do" list:
Vauxhall XP1 front splitter modified to fit preface.
Custom Sill Protectors.
Alpine rear head rest mounted screens or Alpine flip down ceiling mounted screen.
Alpine boot lid mounted screen (for shows when boot is open).
Alpine Imprint sound processor.
Folding side mirrors.
Retro fit CDC module and activate sport switch.
Chrome door handles.